Chickpea Fusilli
Our Chickpea Fusilli has a new formula.
Why would Explore Cuisine change this product? 
At Explore Cuisine we make plant-based nutrition simple.  Because when we make great nutrition easy for everyone, we're enabling those consistent, little changes that make a big impact.  The decision to change our Chickpea Fusilli product was not made lightly.  However, we are now able to deliver a cleaner, more sustainable product with fewer ingredients and a faster cooking time.
How has Explore Cuisine's Chickpea Fusilli product changed? 
We have moved production of our Chickpea Fusilli product from production in Italy to our factory in Thailand.  Importantly, our Chickpea Fusilli made in Italy typically had a cooking time of 9-11 minutes, while our Chickpea Fusilli made in Thailand has a reduced cooking time of 4-6 minutes, making our Chickpea Fusilli even easier to prepare.
How have the ingredients changed for Explore Cuisine's Chickpea Fusilli? 
The Chickpea Fusilli made in Italy originally contained four ingredients, while our new versioncontains only two ingredients – Organic Chickpea Flour and Organic Brown Rice, flour for better taste and texture.  Brown rice is cultivated locally in North East Thailand by farmers in partnership with our Food to Thrive Foundation.  For more information on this, please visit:https://explorecuisine.com/pages/food-to-thrive
How has nutritional content changed? 
Our simpler product formulation contains more fiber per serving –10g per 3.5oz serving vs 6g in the previous formula.  This new formula contains 20g protein per 3.5oz serving. While there is a slight reduction in protein content, it still offers a significant source of plant-based protein.
What packaging changes have occurred with Explore Cuisine's Chickpea Fusilli? 
Explore Cuisine has transitioned from a box with a window to recyclable bag-in-box packaging for their Chickpea Fusilli product. This change is environmentally friendly and helps reduce waste.Because the product is coming from Thailand, it now is required to have a plastic bag to protect the integrity of the pasta as per regulations.
Frequently asked questions
Customer service & ingredients
Where can I find your products?
Explore Cuisine products are sold in over 25 countries! Head to the page of the product you are looking for to find a store near you.
Where are your pastas made?
When our Founder, Joe, was developing the brand, he searched the globe to find the best places to source our raw materials and manufacture our products. Our chickpea and lentil pastas are made in Italy and Thailand. And our bean pastas are made in China. At Explore Cuisine, we want to make sure your expectations of high quality are met. That's why all our factories are certified organic and dedicated gluten-free facilities.
Are the pasta's ingredients organic?
All of our ingredients are certified organic, Non-GMO and are sourced from farms near the factories that make our delicious pasta. Made from the goodness of beans, chickpeas, lentils, rice and peas, our ingredients are the heros. All of our pastas are plant-based with no additives.
Soybeans (Glycine max) are a species of legume native to East Asia. They are a great source of protein. Per acre, soybeans produce more protein than most animal-based proteins do, meaning that they're good for the planet. At Explore Cuisine, we use several types of organic soybeans to give the finest texture to our great-tasting bean pastas.
What type of black bean do you use?
There are mainly two types of black beans: One type of black bean is used in Asian cuisine, and another is used in Latin American cuisine. The black beans we use in our products like our Black Bean Spaghetti, are part of the soybean legume family, which is native to East Asia. They are known for their high-protein, high-fiber, low-carbohydrate nutritional value. The black bean popular in Latin American cuisine is also called the black turtle bean. The black turtle bean has a dense, meaty texture, which makes it popular in vegetarian dishes, such as Frijoles Negros and the Mexican-American black bean burrito. The black turtle bean has half the protein and double the carbohydrate of the black soybean, and so while it is a wonderful bean, it's not commonly used to make noodles or pasta.
Why do you produce your products in China?
China is one of the largest soy-based bean (yellow, black and edamame) producers on a global basis. They're recognized for the high standards of organic and non-GMO beans, which have been celebrated in Asian cuisine for centuries. At Explore, we believe in going to the original source to discover products of the highest quality.
Do your pastas have any allergens, or is there any risk of cross-contamination during the manufacturing process?
All of our factories and products are gluten-, tree nut- and dairy-free. Sesame seeds are present in our Black Bean & Sesame Fettuccine product. All Black Bean & Edamame products contain soy. Safety measures and between-production cleaning take place to leave no trace of any cross-contamination. Please advise our allergen chart below for full details.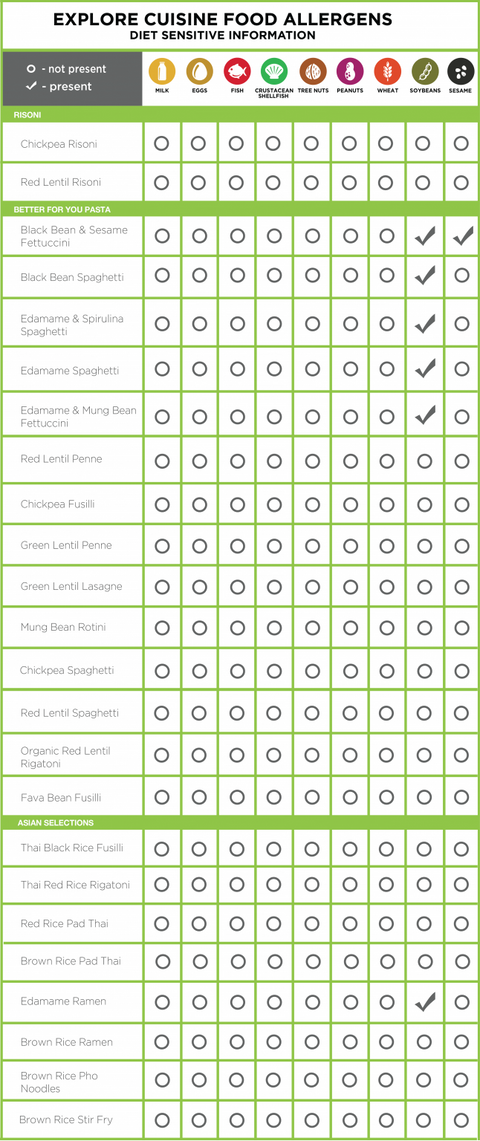 Are your packages recyclable?
The packaging from our Edamame and Black Bean products are 100% recyclable, even the plastic bag. For all other packing, the cardboard box can be recycled, but the plastic bags and plastic window must be disposed of separately. We are working hard to make all our packaging 100% recyclable without jeopardizing the integrity or quality of our products. Stay tuned!
Are your nutritional values based on dry product, or cooked product?
The nutrition information is based on dry, uncooked product.
Is your recommended serving size for dry pasta, or cooked pasta?
The serving size is the amount of pasta recommended for one person. This amount varies from country to country, following country-specific regulations. Please read the label on your country's box for specifics.
Frequently Asked Questions
Cooking
How long does it take to cook your pasta? Can you reheat it?
We value efficient cooking, and so our pastas all cook within 12 minutes. Each pasta has its own specific instructions on the box, and we encourage you to follow them for the best possible pasta! All Explore Cuisine pastas can be kept warm in the pan, reheated, or served cold.
How long can you store it?
We recommend you store your leftover pasta in the refrigerator under normal temperature for up to 2 days.
Do I need to boil the lasagne noodles?
No, you don't need to boil our lasagne noodles before layering them in a dish. Just make sure to put plenty of sauce on both sides of the pasta, including at the bottom of your dish and on the top layer of your lasagne (before vegan cheese!).
Why is there foam when cooking your pasta?
All Explore Cuisine products are gluten-free and made from legume-based ingredients. It's normal that they'll cook differently than wheat-based pasta. To reduce the foam, simply add more water to the pot and a splash of olive oil and / or salt.
Organic Certifying Bodies follow strict policies and procedures on how the product is produced, processed, transported and stored. Our factories are USDA- and EU-certified.
All of our products are naturally gluten-free and are either certified by the Gluten Intolerance Group (GIG) or with the Cross Grain symbol from the Association of European Celiac Societies (AOECS).